European Radiology on the road – ESUR 2023 in Rome
The European Radiology Editor in Chief, Yves Menu, and Deputy Editor, Rossano Girometti were pleased to award the most cited papers in the field of urogenital imaging published in European Radiology in the Impact Factor ranking 2022 at the ESUR 2023 held in Rome.
The gold award was for the paper "ESUR/ESUI consensus statements on multi-parametric MRI for the detection of clinically significant prostate cancer:quality requirements for image acquisition, interpretation and radiologists' training", authored by M de Rooij, B Israël, M Tummers, HU Ahmed, T Barrett, F Giganti, B Hamm, V Løgager, A Padhani, V Panebianco, P Puech, J Richenberg, O Rouvière, G Salomon, I Schoots, J Veltman, G Villeirs, J Walz & JO Barentsz.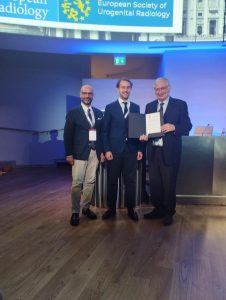 Pictured: R. Girometti, M. de Rooij, Y. Menu.
The silver award was for the paper "Staging, recurrence and follow-up of uterine cervical cancer using MRI: Updated Guidelines of the European Society of Urogenital Radiology after revised FIGO staging 2018", authored by L Manganaro, Y Lakhman, N Bharwani, B Gui, S Gigli, V Vinci, S Rizzo, A Kido, TM Cunha, E Sala, A Rockall, R Forstner & S Nougaret.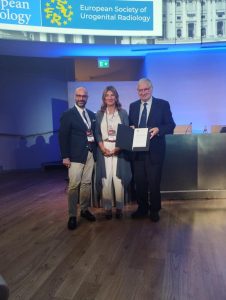 Pictured: R. Girometti, L. Manganaro, Y. Menu.
The bronze award was for the paper "Interreader variability in prostate MRI reporting using Prostate Imaging Reporting and Data System version 2.1" authored by G Brembilla, P Dell'Oglio, A Stabile, A Damascelli, L Brunetti, S Ravelli, G Cristel, E Schiani, E Venturini, D Grippaldi, V Mendola, PMV Rancoita, A Esposito, A Briganti, F Montorsi, A Del Maschio & F De Cobelli.

Pictured: R. Girometti, G Brembilla, Y. Menu.